Shalom:
Right now, Mark and I are at Mark's parents' doing laundry.
We are going through a very difficult time, so for those who do, I ask for your prayers.
But when I am home, laying in bed, trying to get well, I am either sleeping or reading.
I return to one of my favourite books, Hinds Feet On High Places.
In this most difficult place in our lives, I myself returning to the story of Much Afraid, servant of the Good Shepherd.
Much Afraid longs for the day she is able longer fellowship with the Shepard, longs for the day her crooked feet and mouth are made straight and whole. She dreads marriage to her cousin Craven Fear, who delights to abuse her.
Sharing the desire of her heart with the Shepard one day, He surprises her that He too longs for her healing and offers her the change to be made whole.
But it wouldn't be a Benny Hinn miracle; where she is slapped silly and someone man cries "HEAL."
No, she, Much Afraid must do the work for her feet to be transformed into "hind's feet." To do some, she would have to walk the path of the hind and face and overcome the fears that whole her back.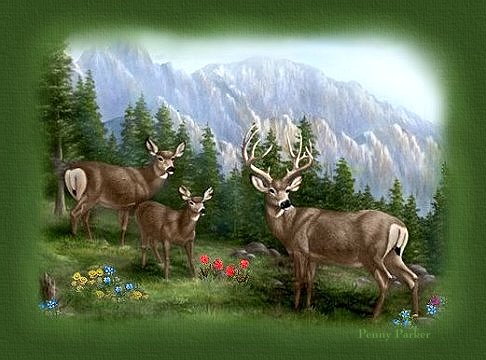 Our life of faith is liken to the path that the deer and hind travel. In order to take those breathtaking leaps, they must learn to leap over the stones and branches along their path. A young buck is insecure and nervous when taking those first leaps. But he has the best teachers in his parents, who show him how it is down, First the dad takes son to easy paths, easy branches and rocks to jump over. As his legs get stronger, the young buck is able to take on steeper paths with ease,
It is the reason we go through trials, to strenghten our faith muscles so we can leap over the stumping blocks that are thrown in our path.
The past few days, I have found myself battling the rise of my blood pressure, the stress that briefly left our lives, returning into weeks of our move and has settled in.
So as I recover, this is a good time to revisit my friend Much Afraid and the Shepherd.
This is a rather steep path.